PC, MAC and Internet Radio Receivers
myBNR-DB Radio Primary & SSL IP:
http://209.95.50.189:8017/stream (NEW)
https://s6.reliastream.com/proxy/mybnr?mp=/stream (NEW)

If you are using our webpage player you don't have to do anything!
IF YOU HAVE AN ALEXA ENABLED DEVICE YOU CAN LISTEN TO MYBNR AT ANYTIME.. Just Say "Alexa, ask TuneIn to play WBNR-DB"
Our engineering department developed a "All Platform HTML5 Player" that works on most of the Internet Browsers, both old and new and also most Smart phones. However, we realize some like to use their own favorite program , Alexa, or Internet Radio Receiver.

WinAmp Player Config: http://209.95.50.189:8017/stream
Windows Media Player: http://209.95.50.189:8017/stream
Real Player: http://209.95.50.189:8017/stream
SMART PHONE SERVER SIDE APP
We have developed a "Server Side Apps" for iPhone, iPad, Android and other phones that have been released in the last four years. However, earlier phones seem to work . The positive is that you do not have to download any APP. Here is all you do!
1. In your Smartphone's browser just type our service portals. For this example we will use myBNR.com for this tutorial. So let's type "myBNR.com" Now press "Listen"! You will receive the following: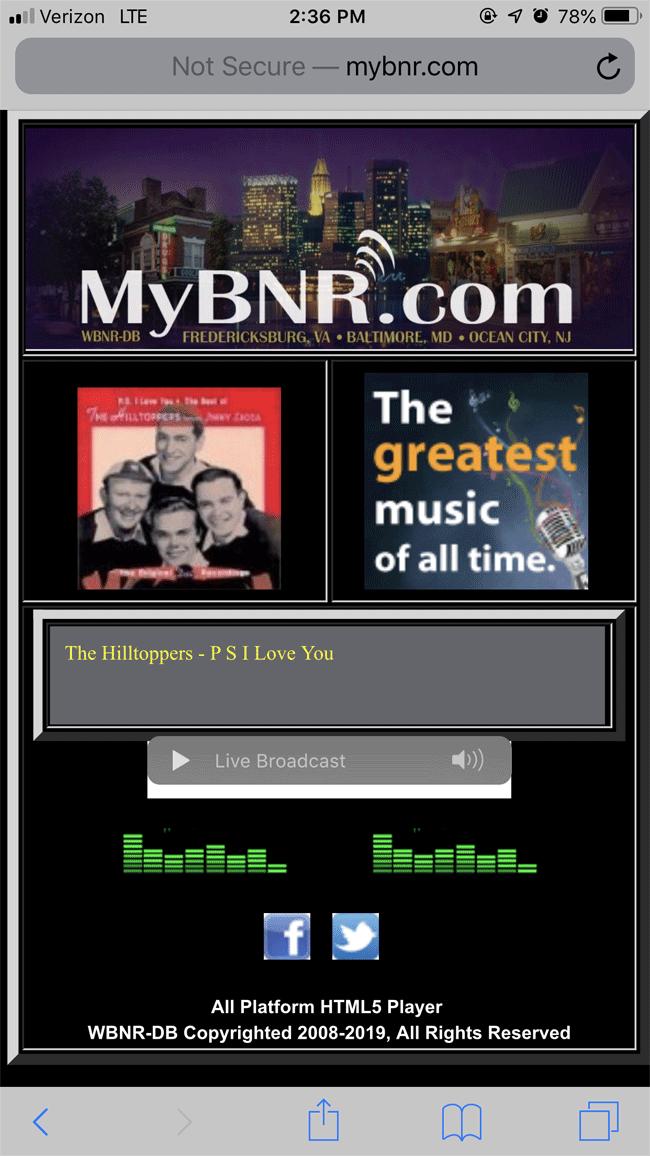 Now, let's bookmark the page to your home screen
A. Press Menu then select Bookmarks.
B. Click Add Shortcut to home screen. That's it! You have just added an ICON and the myBNR Mobile Player.
Okay now press "Listen" and enjoy!
FOR OLDER SMART PHONES ONLY!

MyBNR.com operates with state of the art digital transmission facilities. Our digital stream employs the World Standard MP3 and our audio stream is compatible with direct Internet Radio Receivers, iPhone, Android and other smart phones. Download the APP from your respected provider. Search Shoutcast for myBNR, select and you are ready to take us anywhere. If we are not listed enter the Primary IP listed above.
We have tested APPS and suggest the following just searching the name below:
Apple I-Phone and I-Pad "TuneIn" Free with ads
Droid Operating System "TuneIn" Free with ads



WBNR-DB is also available on other Internet Radio sites around the World. Just search "WBNR-DB myBNR".

[Installation Instructions]

1. Download the app and install.
2. Start the app and select your country then "Search" and type in "myBNR" press GO or Search
3. Press the Bar and you are all set. Make sure to save as a favorite!
4. You are now ready to take us wherever you go 24/7.

[Below are questions and answers on issues posted by our listeners]

Q: Can I just enter your Primary Server IP address in my Smart Phone Browser
A: Yes but we suggest using our new Server Side Mobile Web Site that is listed above.